Karen Fong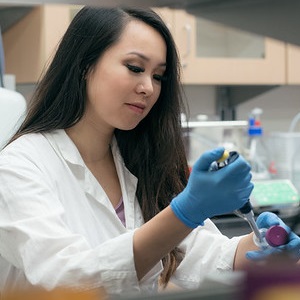 About
| | |
| --- | --- |
| Grad Year | MSc (2015), PhD (2019) |
| Major | Food Science |
| Occupation | Research Scientist |
| Workplace | Agriculture & Agri-Food Canada |
Karen Fong is a Research Scientist for Agriculture & Agri-Food Canada.
What does a typical day at work look like for you?
My lab seeks to understand foodborne pathogens (e.g., Salmonella, E. coli) and how best to control them using novel intervention strategies. Specifically, I am interested in bacteriophages: viruses that kill bacteria without infecting human cells. They're like tiny killers that specifically target and destroy harmful bacteria – which I find pretty cool! One aspect of my job I find pretty exciting is that I work with local and regional industry partners and am therefore able to see first-hand the impact of my research.
What motivated you to enter the science field?
I was intrigued by microbiology from a young age. When I started my undergrad, I knew I wanted to major in it. I was (and still am) fascinated by how bacteria are so simple, yet can cause such horrific diseases in humans (multicellular organisms far more complex than bacteria!)
What challenges have you faced in your career?
"Imposter syndrome": undermining your accomplishments and feeling out of place in your present environment. I think this is something a lot of graduate students and academics struggle with, yet don't talk so openly about. Remember that someone had to believe in you for you to get to where you are!
Share one example of where your LFS degree has allowed you to differentiate yourself from other professionals.
The small and interconnected LFS community (students, staff, faculty) was really beneficial for me. I got to know many people within LFS really well during my graduate studies and this presented me with so many opportunities that a larger faculty wouldn't be able to provide.
What is something that you are proud of that you have accomplished in your career?
Being able to teach a diverse set of subject areas – from general food microbiology, food science and fermentation. As a graduate student you can get really focused on one niche area. I really enjoyed learning and teaching about a variety of different subjects and being able to communicate that to diverse audiences.
What are your top tips in finding the right balance between work life and personal life?
Time management is key – and so is taking care of yourself! Don't be afraid to say no to taking on new commitments if your schedule doesn't permit or if it means not prioritizing yourself.