Joanne Saunders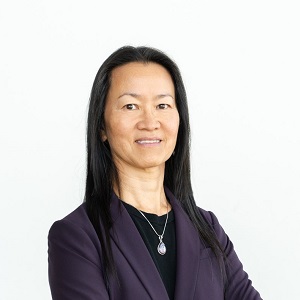 About
| | |
| --- | --- |
| Degree | Bachelor of Home Economics |
| Major | Home Economics |
| Occupation | Executive Director, Marketing and Recruitment |
| Workplace | Kwantlen Polytechnic University (Surrey Campus) |
What motivates you to volunteer?
I think it's helping students, ideally. Having gone through my program, I just know about all of the questions and confusion that can happen in the mind of a student, because the options are so varied. I find that a lot of students are in a program and they have no idea what they want to do later, so I give my assistance, if I can help them.
How do you feel you benefit by volunteering?
It helps me practice my role as a leader. I run the marketing department at Kwantlen Polytechnic University, so we deal with students as well. Volunteering helps me understand students and where they're coming from, how to work with them, and how to get them to find their way.
How did you envision your career journey would be when you started university?
I had no idea—no idea! But I was very, very fortunate because I stumbled onto opportunities, and it's gotten me to where I am now. I always wished I could be a person like one of my best friends from UBC who is a dietitian: she knew she was going to be a dietitian, and that was it! I was one of the very few who just never had an answer.
Share one example of how your UBC degree experience enabled you to differentiate yourself from other professionals.
It was my experience in the electives that I took to complement my Home Ec degree that really helped, and paved the way for the career I eventually fell into. I took all the required Home Ec courses, but I took all my electives from business. So that got me into marketing food products. I spent most of my career working in the food industry in marketing and also partially in testing with R&D scientists developing food products. Then about 10 years ago I changed my focus to post-secondary.
What is one message you would like to share with students about how they can prepare for the world of work?
Every year I have at least one if not both of the mentees who are really not sure what they want to do—so I always suggest to them, "Come up with some ideas of things that you could see yourself doing. It doesn't mean that you're committing to it; it doesn't mean that this is what you have to do. But try to think of something that you have some interest in. Then, connect yourself with someone who is in that role." I try to get them to go out and have that conversation.
What is something that you are proud of in your work and career?
Well, I think it's that no matter what my job is, I've always persevered and succeeded, even if it's not something I chose to do. Like at KPU, I didn't start out on this path in Marketing and Recruitment. But one day the president said to me, "Oh, we'd like you to manage student recruitment", and I was, well, I didn't know anything about that! But I think it's a personality thing—it's just the way I am: if there's something here in front of me, I'll tackle it.