Alumni Profile: Janella Schwab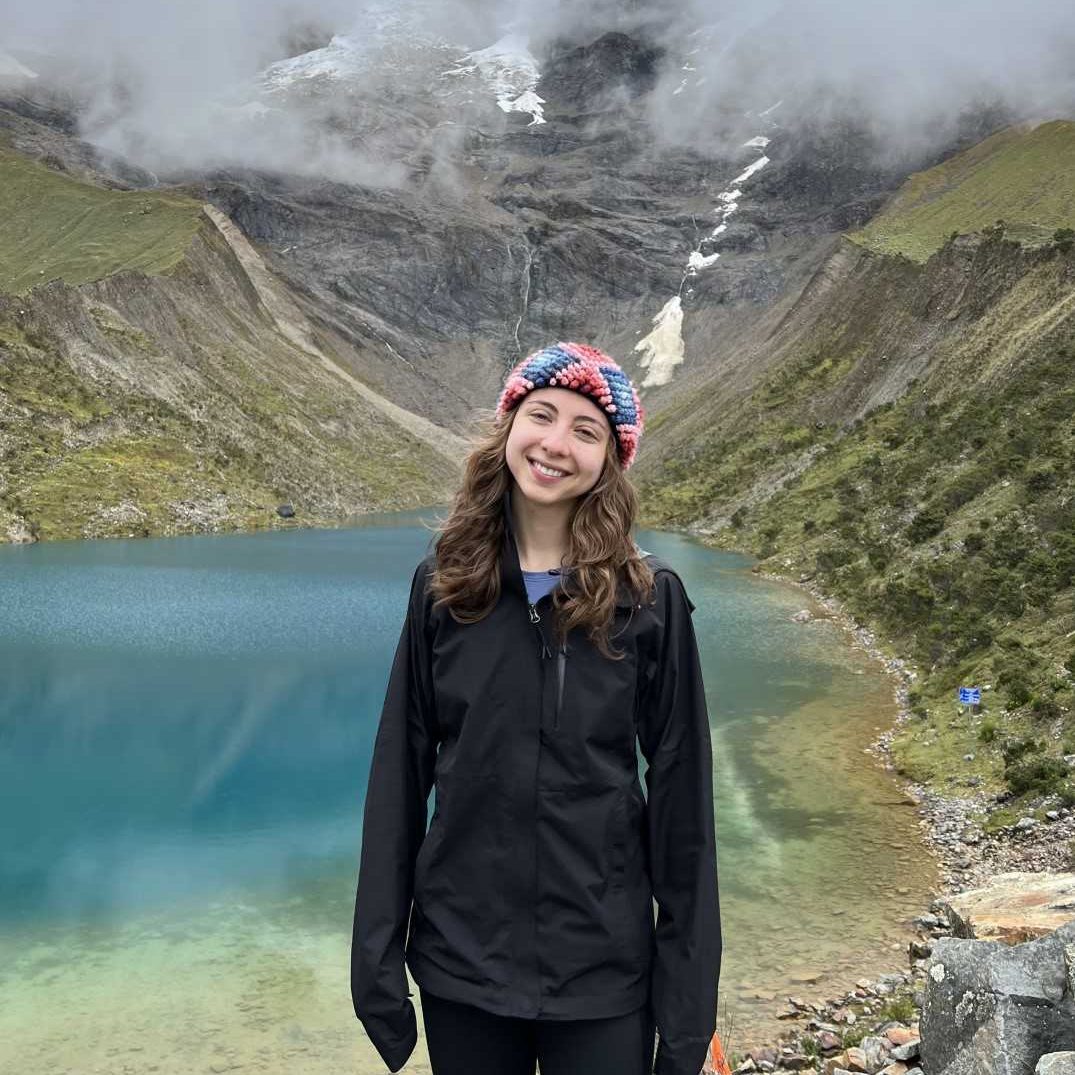 About
| | |
| --- | --- |
| Degree | Bachelor of Science in Applied Biology |
| Major | Applied Animal Biology |
| Hometown | Lima, Peru |
Janella Schwab's passion for animals drew her to the Applied Biology program. A member of the Class of 2023, Janella's next step is attending Stanford University to pursue a PhD in Bioengineering, which was inspired by the research conducted through the LFS course APBI 398, where she learned more about molecular biology and cell engineering. Janella talks about the unconventional route she took in LFS, and how it led her to discover the world of bioengineering.
What made you interested in doing a PhD program in bioengineering?
As I started conducting research as a volunteering job, and then as my co-op placement, I noticed that I thoroughly enjoyed the core activities that graduate students carry out: reading scientific papers, planning experiments, discussing advancements in the field, and presenting literature or results. This made my decision simple: I just wanted to continue doing what I enjoyed the most. A PhD would allow me to do this – researching and demonstrating previously unknown scientific findings. I feel very lucky that what I'm passionate about also is something that furthers my education and opens up multidisciplinary opportunities.
What led me to bioengineering specifically was an interest in synthetic biology, which is the creation of novel organisms through cell and gene engineering. This isn't the "let's edit our baby's eye colour" kind of gene engineering. It's the type that creates solutions for problems in manufacturing, medicine, and more! This subject was introduced to me through the iGEM competition in high school, and after joining UBC's team in my second year I noticed it's what most intensely fascinated me despite taking animal biology classes.
What type of career do you see for yourself in the future? What do you hope to accomplish?
I hope to have a career in the pharmaceutical industry leading scientific teams in R&D toward novel therapeutics. Hopefully, new technologies that I will potentially be working on during my PhD, like cell-based therapies, will be developed enough to push for their use for improved and personalized medicine. Being in LFS made me see the improvement of our community as the most valuable goal, which inspired me to aim for this by improving collective health.
Why did you choose to come to UBC and what drew you to Applied Biology?
In choosing where to go to university from Lima, Peru, I wanted to prioritize both academic quality and life quality. A UBC representative came to my school along with one of our alumni who was a current UBC student, which convinced me that UBC would be a good educational fit, and Vancouver a great place to enjoy the outdoor-related hobbies I was devoted to. I had always loved and cared for animals very deeply, so I joined the Applied Biology program (APBI), majoring in Applied Animal Biology, to learn more about them even though I was unsure what would come of it.
How did your time in LFS prepare you for graduate studies in bioengineering?
Learning in LFS makes you view your interactions with the natural world, as well as the world itself, as a system. This helped me see my research in the same way and want to build solutions for it. The kind of research I do works at the cellular level, where the cells that make up our bodies are a complex system that researchers in my field aim to optimize for the sake of discovery, therapeutics, or environmental developments. Therefore, my branch of bioengineering is like a small-scale land & food system, and learning in LFS has given me the "builder's itch" to find solutions in this space in a systematic way.
LFS, like bioengineering, unifies multiple disciplines, requiring expertise from environmental sciences, forestry, sociology, zoology, and other fields to create resilient food systems and adequate animal welfare. Learning at this intersection has definitely prepared me to work in a multidisciplinary way.
Finally, the kind and supportive LFS faculty allowed me to pursue research in my field of interest under the framework of my APBI degree, and under the commendable research principles of LFS. After completing the course Research Methods (APBI 398) with Dr. Marina von Keyserlingk and Dr. Dan Weary, I undertook an undergraduate honours thesis and directed studies under the supervision of each of them respectively, but conducting the actual research with professors from the School of Biomedical Engineering. Without them, I wouldn't be as equipped to independently conduct research the way my PhD will require.
Do you have a few words of advice for LFS students?
Don't be hesitant to go the unconventional route, whether it be to carry out your passion like it was for me, or to reach a specific goal you've dreamed of. Beginning my research journey involved asking if I could do a cell biology-related project for APBI 398, which nobody had done before – but I did it because I figured the worst thing they could say was 'no'.
Also, in the midst of challenging classes and never-ending to-do lists, don't forget to enjoy yourself and everything UBC has to offer! Even when it might not feel like it, these are the years you'll look back on and hope you went on all the adventures that UBC and Vancouver make easy to enjoy.