New DIY Media Studio Enables UBC Library Users to Record High Quality Video and Audio Content
Recently, our faculty's Duncan McHugh, Digital & Instructional Media Producer has been featured by the UBC Library group. Below, read about the the library's new DIY media studio and how Duncan will use the space for his course, LFS 400: Audio storytelling.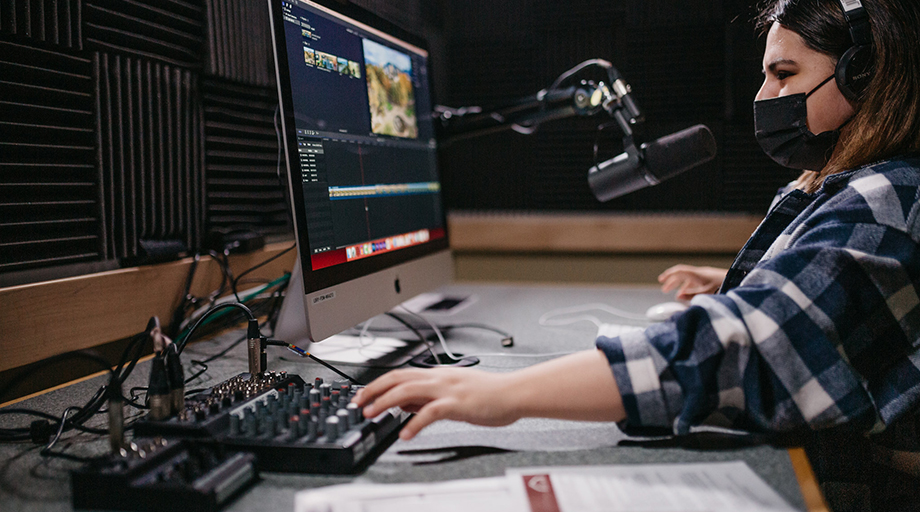 Want to start your own podcast? Editing a video for a project? The Chapman Learning Commons is now offering a full DIY Media studio that allows anyone in the UBC community to create unique digital content.
The sound buffered studio, located in the Music Art and Architecture Library on the 3rd floor of the Irving K. Barber Learning Centre, enables library users to record high quality video and audio with access to microphones, a mixing board, a video camera, green screen, and a Mac computer with audio and video software.
Users have access to key software including:
Adobe Creative Cloud – Premiere Pro for audio and video recording and editing
Audacity – Audio recording
Camtasia – Screen capture/audio recording
Open Broadcast Software (OBS) Free – Streaming, Annotation, Webcam Annotation
Videoscribe – software for creating whiteboard animations automatically
The studio is a result of a collaboration between UBC Studios, the Centre for Learning and Technology, UBC IT and UBC Library AV and can be booked for as little as 45 minutes and as long as 2 hours and 45 minutes.
Providing technology-rich spaces for research, teaching and learning
For Duncan McHugh, Digital & Instructional Media Producer at the UBC Faculty of Land and Food Systems, the new space is a game-changer for students in his class, LFS 400: Audio storytelling. "The course is really a science communications course disguised as a podcasting course," says McHugh, "We focus on developing skills and techniques to help get research out of the academy and in front of the general public in an engaging way. By the end of the term, students have the ability to share their knowledge in effective and creative ways and have created a 8 to 12-minute podcast to share with the world."
Students in LFS 400 will use the DIY Media Studio to record interviews with researchers on campus. "The great thing about the studio," says McHugh "is that it has two microphones and is set up for a conversation. It is also beautifully built, using broadcast-quality equipment and set up in a way that makes tools very accessible for students."
"We worked closely with UBC Studios to make sure we got the formula right for our DYI Media Studio. Our goal was to provide a space that had the tools needed by the campus community to create digital media content, and offer it in a central, accessible location within the Irving K. Barber Learning Centre. This space also exemplifies how academic libraries continue to evolve to meet the needs of 21st century learners," says Julie Mitchell, Associate University Librarian and Director of the Irving K. Barber Learning Centre.
McHugh is particularly encouraged by the potential the DIY Media Studio brings to amplify unheard voices in the UBC community: "A lot of people are starting to embrace podcasting on campus, but don't necessarily have access to the right tools. An accessible studio like this can really help surface voices we don't always hear from."
See pictures of the new space and read more about how to use it on the library website.