Jenny Lu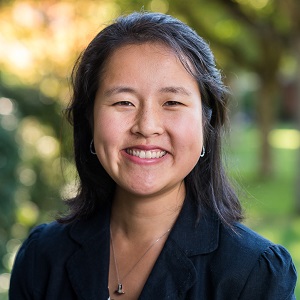 About
| | |
| --- | --- |
| Grad Year | BSc (2018) |
| Program | Bachelor of Science in Global Resource Systems |
| Occupation | Administrative Assistant |
| Workplace | St. John's College, UBC |
What is one message you would like to share with students about how they can prepare in their undergraduate years for the world of work?
Embrace group work and community-engaged projects 🙂 Also, value your relationships! Yes, there will be stressful situations and frustrating working relationships, but what they call the "real world" is full of interdisciplinary teams and collaborations. It really is a privilege to have this kind of training built into our [Global Resource Systems] program in LFS, and it gives both an "edge" as well as greater confidence.
How does your current work/position connect to your LFS experience?
While people often joke about how my current job doesn't seem to relate to my degree studying food systems (What do you mean? Everything is connected! [systems thinking!]), I actually got this job because of my LFS background! I am part of the team at St. John's College, a grad student residence at UBC, where I support admin and finance, as well as work on community-engaged projects relating to Chinese Canadian history and heritage with Professor Henry Yu and his team. I was a student in Prof Yu's Global Seminar class: ACAM 390A The Heritage of Chinese Migration, focusing on the food and ag practices of Chinese farmers who came to Canada, and grew the majority of the fresh produce we ate in this province in the early 1900s - and still do today. I went on to being a teaching assistant for this course the following year, and then got this job working at SJC! I apply a lot of my experience from LFS in group work, interdisciplinary collaboration, and working with community partners - invaluable skills.
Share one specific way your LFS experience has provided value in your career or in the workplace.
Experience with group work and community-engaged projects! These things form a bulk of my current work - working with different units on campus, collaborating with local museums and organizations in Chinatown. It has also been an asset in TA-ing, and making connections with community partners.
Share one example of how your LFS degree experience has enabled you to differentiate yourself from other professionals.
In addition to (or perhaps because of) my experience with community work, I would say the capacity and desire to work and communicate with empathy. I appreciate that empathy was both discussed as a topic in many of my classes in LFS in the context of making change in the food system while truly listening and hearing one another, as well as practiced through the opportunities to collaborate with diverse stakeholders and community members that are built into the LFS program. I think when you carry yourself with empathy, it makes working and connecting with anyone in any work and life environment both much smoother (not easier) and much more meaningful.
What is something that you are proud of that you have accomplished in your career?
With my friend, fellow GRSer, and co-TA Marcus Jung, we planned the trip for the ACAM 390A Global Seminar in 2019, which took a class of 18 students to Hong Kong, Singapore, and Malaysia over 16 days. I felt so proud seeing our students grow, learn, and become inspired to learn more about Asian Canadian history and heritage, the role of food in culture, and their own cultural heritage and role in the community.