Brennen Gilbert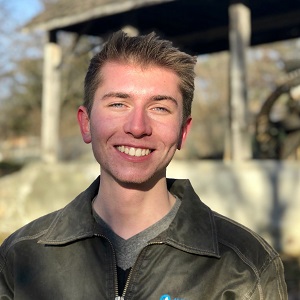 About
| | |
| --- | --- |
| | Undergraduate |
| Degree | Bachelor of Science in Global Resource Systems |
| Major | Environmental Sustainability |
| Hometown | New Westminster, BC, Canada |
Meet, Brennen! His passion for environmental sustainability drew him to the Faculty of Land and Food Systems where his classes, professors and advisors have helped shape his academic and non-academic experiences in ways he didn't expect. Brennen is always up for trying new things, and knows how exciting (and sometimes scary) that can be. This is why he has given back to our Faculty as a Senior Orientation Leader in the past, and continues to be actively involved on campus.
What are three adjectives that describe you?
Optimistic, quirky, and (always) hungry
What is the greatest advantage of studying in a smaller Faculty at UBC?
Since there are (relatively) so few of us, it makes it way easier to see fellow LFS-ers in your other classes or just on campus in general. Plus, it means more 1-on-1 help from faculty! The amount of personal growth I've witnessed, both in myself and others, since joining this community is unbelievable. The UBC, and especially LFS experience, is so enriching. Between all the people you will meet and all the support you can receive, you can't do better than LFS.
Why did you choose Land One, the first-year cohort program with our friends in the Faculty of Forestry?
As a first-generation university student, I never really had anyone I could talk to with experiences of what the post-secondary life was like. I didn't have a clue what a "faculty" or "major" was, I didn't know the difference between lectures/tutorials/labs, and I sure didn't know anyone on campus. So when I received a personal message from LFS Student Services explaining this opportunity called Land One, which consists of smaller class sizes, customized timetables to aid with registration, and a cohort to develop better relationships with my peers, I knew it was exactly what I needed to succeed with first year and my university transition. Fernanda Tomaselli who taught LFS 110 (an introductory Land One seminar course), is one of the professors who has had the biggest impact on my experience here in LFS. She was always willing to help her students succeed and went above and beyond as a professor!
What impact have your extracurricular experiences outside of your academics had on you?
Two of my favourite extracurriculars that I have been a part of during my time at UBC are Zumba (though UBC Rec) and UBC's Musical Theatre Troupe (MTT). I had NO experience in either of these activities before university, but through some spontaneous decisions I've come to really enjoy both of them! My message here is to just to try new things- trust me, you won't regret it. I think extracurriculars are super relevant to both the undergraduate and after-graduation experience. Take networking for example: many people think that networking can only be done during specific "networking events" that regularly occur throughout the year. However, I've found that almost everyone in my network is from either classes or extracurriculars, and they can open you up to new experiences. For example, I was in a meeting for a musical last year, when I decided to approach the set designer and ask him if he wanted help with any projects (I had experience using tools, but not making sets.) One term later and I am the assistant set designer for our musical, and I love the position! It gives me something to look forward to each week, which is an invaluable asset for a student to have.
For new students, what advice would you give them about making use of resources at UBC?
Coming to university, I felt like I was struggling a lot in my first-year calculus course, to the point that I failed my first midterm (it wasn't good). This really opened up my eyes because I realized that if I wanted to succeed, I would need to reach out for help, which is something I had always refused to do prior. What I ended up doing was going to the Math Learning Centre (sometimes called the MLC or LC), which is a place where you can find peers in the same course who are also looking for help and the group of you can work together or get help from tutors together. I can directly credit my later success in the course to me deciding to reach out and get help from the MLC, which is something I ended up doing for my other classes by using the Chemistry and Biology LCs. Don't be afraid to ask for help!
Interested in studying in the Faculty of Land and Food Systems? Learn more here!