Gladys Oka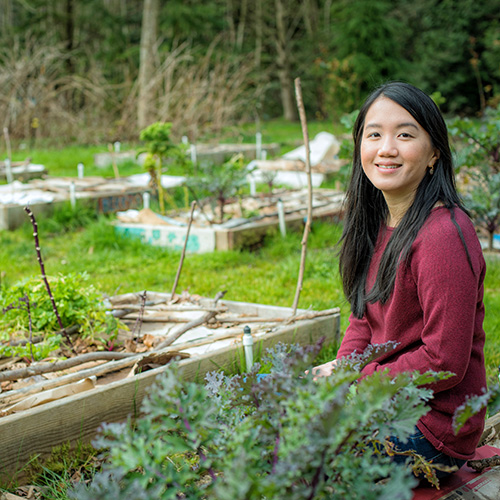 About
| | |
| --- | --- |
| Rank | Masters of Science Candidate |
| Degree | Masters of Science |
Elevated Toxic Metals at a Community Garden Site Raise Concerns
Elevated levels of toxic metals at a Vancouver community garden site raise questions about the city's approach to promoting urban agriculture.
In research outlined in the Journal of Soil Science and Plant Nutrition, lead author Gladys Oka, an MSc candidate in our soil science program, detected elevated levels of zinc and lead in soil from a community garden site at 16th Avenue and Oak Street.
"My intention is not to say don't plant, don't do community gardens," says Oka. "But I don't think it's necessarily in the best interest of Vancouver to push something without informing people of all the considerations they need to make."
Native soil sampled from the garden site was found to have concentrations of 456 parts per million (ppm) of zinc, and 219 ppm of lead—exceeding background soil levels in the Lower Mainland of 200 ppm and 60 ppm respectively. Kentucky bluegrass, used as an indicator plant, was found to absorb the metals: the shoots of those grown on the garden site contained 1,330 ppm of zinc and 387 ppm of lead. The European Scientific Commission on Food recommends no more than 25 mg per day of zinc and no more than 0.03 mg per day of lead be ingested by a 60 kg person.
While the use of raised beds could mitigate contamination from the soil, Oka says readings of metals in the air are also a concern. Compared to the UBC Farm site, which the researchers also tested, there was eight times as much zinc and twice as much lead and copper in the air around the community garden.
"You can fix the problem of what's happening in your surface soils by using compost, but if you're growing in that for five years, you might be accumulating a lot of metals," she notes.
Co-author Les Lavkulich, program director of the UBC Master of Land and Water Systems, calls for a measured approach to urban gardening. "Our research has shown that the potential for metal contamination is a concern. Before we start promoting things, we should make sure we have a relatively good idea of what we're promoting."
Oka's research has led to a change in Vancouver Park Board policy. In February 2015,the Vancouver Parks Board announced that it will mandate that communicate gardens and local agriculture projects be planted in soil free of urban contaminants.