Cara LeGault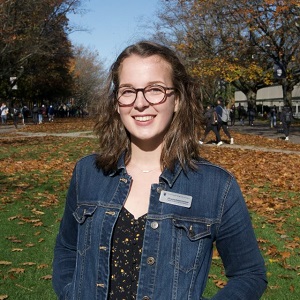 About
| | |
| --- | --- |
| | Undergraduate |
| Degree | Bachelor of Science in Applied Biology |
| Major | Sustainable Agriculture and Environment |
| Hometown | Kitchener, Ontario, Canada |
Making the decision to move from Ontario to Vancouver was scary at first, for Cara - leaving the comfort of home for the unknown, in the pursuit of her passions at a new post-secondary institution. It may have taken a bit of time, but Cara found comfort and common ground with her peers and instructors in LFS, and with experience, came confidence. By taking a variety of courses that were of interest to her and getting involved, she landed (pun intended!) in a program where her passions came together: the Sustainable Agriculture and Environment major in the Applied Biology program.
What are three adjectives that describe you?
Thoughtful, kind and curious
What advice would you give new students about how to build community in LFS?
Get involved in as many things as possible, and take courses that really interest you. I have been volunteering at Agora Café for 3 years now and it has helped me gain confidence in my ability to socialize, stay organized and be in a leadership position. I also attend a lot of the Faculty events: the social activities put on by the Faculty and LFS|US have given me the chance to socialize with people from many different majors and connect on so many different levels. LFS has helped me curate a lot of really special friendships with like-minded people. It's really great on a busy day to have some time to spend with friends at Wednesday Night Dinner, or when LFS|US hands out free ice cream (especially since they always have vegan options).
How have your instructors influenced your academic path?
There were two courses and professors who really solidified the passions I have for sustainable agriculture. Agroecology (APBI 260) with Dr. Sean Smukler and the LFS 496 internship I did in the summer with Dr. Andrew Riseman.
APBI 260, Agroecology, allowed me to see the change that is possible in the way we grow and produce food and how it takes hard work, collaboration and education to make that possible. Dr. Smukler provided experiences for us to get out in the field at the UBC Farm and in farms in the Lower Fraser Valley to help us gain a real understanding of the struggles farmers face and the potential we have to work with them to create a more sustainable food system. He emphasized that we as scientists cannot solve the problems farmers face without working with them, and understanding their knowledge and perspective.
This was emphasized further during my LFS 496 internship where I worked on a farm and was asked to reflect on my experiences and what they mean for my future. Dr. Riseman framed my life in a way I had never thought of before and helped me understand that every experience I live through is preparing me for my future. Every diverse experience I have is providing me with insight and allowing me to develop skills that will be useful somewhere in my future, even if I can't see that far ahead yet. Having dreams and goals, even if they may seem unrealistic, gives you purpose and direction along the way. The path you take in life will inevitably change a million and one times - it's the intention and purpose you have in life that will ultimately drive you.
How has your experience in LFS shaped your vision for your future?
Sustainability can seem like a very complex and daunting issue, and as a transfer student from a Science Faculty, I had never thought about what the real implications of my career could be in making the world a more sustainable place. LFS showed me not only where the world is struggling to make sustainability a priority, but what place I have in that process and how my skills and interests have the ability to make change. I am building the skills the world needs to become a better place.
Interested in studying in the Faculty of Land and Food Systems? Learn more here!