Arisa Thamsuaidee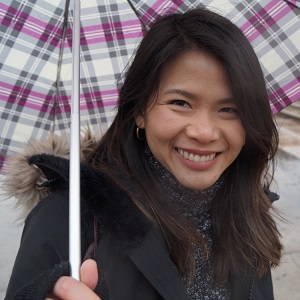 About
| | |
| --- | --- |
| Grad Year | 2014 (BSc) |
| Program | Bachelor of Science in Food, Nutrition, and Health |
| Major | Food and Nutritional Sciences (Double Major) |
| Former Occupation | Junior Quality Specialist (Ferrero Rocher and Nutella) |
| Former Workplace | Ferrero Canada |
| Hometown | Chanthaburi, Thailand |
| Pronouns | She, Her, Hers |
Arisa Thamsuaidee is a former Junior Quality Specialist with Ferrero Canada. In her role, she worked with operations to ensure that the products meet the food safety and quality standards by engaging in the decision making process and continuous improvement activities.
How did your academic experience prepare you for your previous job?
The food science courses like food chemistry, food microbiology, and food process science provided the foundation for understanding the concepts. Labs and co-op experience applied these concepts and really helped me to prepare for the industry. I also felt that in LFS we tend to promote group work and problem-based learning with students from other disciplines. I did not always enjoy it back then but now I can see that it was preparing me for the real world.
How did you envision your career journey would be when you started university? And how did that evolve?
I in fact started my first year of university in the Faculty of Science but due to my love of food decided to transfer to LFS, and since then I have never looked back. I truly enjoyed my time in university and immersing myself in the academic world but at the time I was also unable to see beyond a limited number of career paths that I imagined for myself. After working for a local company, for multinationals, for universities and even briefly for a non-profit, I started to realize that endless possibilities are out there for those of us with background in food and nutrition.
In your previous job, what did an average day at work look like?
Not every day was the same but I would typically check in with my supervisor and team to see whether there are urgencies to be addressed for the day. It could involve investigations at the production line, providing an inspection plan, interpreting lab results, or performing data extraction. I met daily with production and other supporting departments to discuss KPIs from the previous day. On quieter days I worked on quality improvement projects, updated documents, and occasionally arranged training for the operators. I also managed the consumer complaint database so I was able to see the full circle as to what happens to the product after it leaves the plant. And I got to taste chocolate, of course - as part of the weekly sensory panel.
What are some accomplishments or highlights of your career that you are most proud of?
During the COVID-19 pandemic, food manufacturers continued to operate as an essential service. While we are not as visible as those in the health sector, I am proud of all my colleagues who showed up every day in the plant, many on a rotating shift schedule. I am also proud of my company for taking all the possible measures to ensure that we felt safe in the work environment.
On a personal level, I am very proud of my international experience. I was born in Asia. I grew up in Canada and completed my Bachelor's degree here. After working for a few years I received a scholarship for a Joint Master's degree in Europe where I had the opportunity to live and study in Belgium, Portugal, Germany, and Ireland. The experience has become a part of my identity and has made me much more adaptable and open-minded as a person. Much of this happened because I simply decided to pursue what I love.
What one piece of advice would you give to current students before they graduate?
Try everything. Get involved in initiatives, volunteer, join co-op, go on exchange. There are skills that can be developed outside of lectures and not to mention the wonderful and valuable connections you will make.