Melanie Liu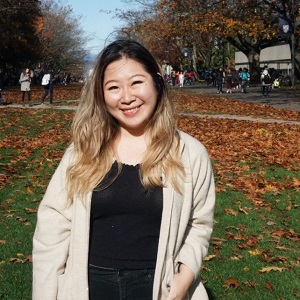 About
| | |
| --- | --- |
| | Undergraduate |
| Degree | Bachelor of Science in Food, Nutrition and Health |
| Major | Dietetics |
| Hometown | Burnaby, BC |
Melanie's perception of health and her relationship with food was shaped by her time in LFS, and through her Work Learn and volunteer experiences, she advocates for why it is important to study food and nutrition issues, and to ensure we can develop a more food-sustainable future. Through courses Melanie takes as a Dietetics major, she develops the tools necessary to help address health inequities in her local community.
What are three adjectives that describe you?
Empathetic, warm and open
Why did you transfer in to the Faculty of Land and Food Systems?
My path to finding LFS is not as linear and simple as my decision to apply to UBC. I initially applied and got accepted into the Faculty of Science. I chose to specialize in Biochemistry in my second year and I really struggled with conflicting feelings as it was hard for me to accept that I wanted to find a program that allowed me to apply what I was learning in a different way. During this time, I was taking FNH 250 and FNH 200 as electives. I fell in love with human nutrition and food science really intrigued me. I knew I wanted to pursue a career where I can use my science background, but also work in a health care setting that provides me with the opportunity to work with vulnerable communities and make a difference in their lives.
After doing some research, I decided to take a leap of faith and apply to transfer into the Food, Nutrition and Health (FNH) program in LFS. My transition was made a lot easier through the support of my biochemistry advisor as well as the team of advisors in LFS Student Services. While it was a challenge to recognize when something wasn't working out and start back at the beginning, discovering what I am truly passionate about was a very rewarding experience when I look back on that decision.
What has been the benefit of getting involved on campus?
Being able to join and become integrated in communities within and outside of UBC has shaped my confidence and contributed a lot to my personal growth. The shift towards focusing on mental health, and to not let my grades alone define me has been a continuous effort that has been made a lot easier with the support from these diverse communities.
Whether it was practicing yoga and kickboxing on a weekly basis, attending Day of the Longboat as a yearly tradition with UBC Rec, or participating as a Jump Start Orientation Leader – I had the best time developing close bonds and forming lifelong friendship. Going out to explore and try new things has taught me resilience, being mindful, and that it's okay to try new things and not be that great at it.
What is the best thing about your learning experience in LFS?
My learning experience in LFS as being very collaborative and hands on. We have opportunities in class (such as LFS 350), in which we work in small groups and build connections with community partners to create real change. In addition, we also have a small Faculty so many of the professors that have taught me in my first few years will also be my professors in my courses in my later years. This has provided me with the opportunity to receive lasting mentorship and guidance that follows me throughout my degree.
What advice would you give a high school student considering applying to LFS?
I would tell them if they have a passion for addressing social issues using their science background. LFS is a great Faculty to get involved in by working in collaboration with students in all programs and between Faculties in order to combat local and global issues. I would also recommend high school students to take the initiative to come to Faculty open house events and school tours to talk to students and faculty members in person. While doing the research at home and reviewing the UBC website is great, the in person conversations can reveal more opportunities and details you may not find online.
Interested in studying in the Faculty of Land and Food Systems? Learn more here!