Adrienne Nye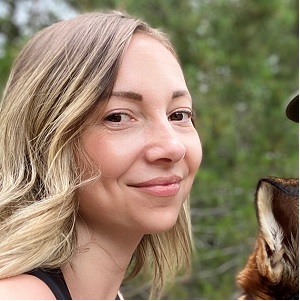 About
| | |
| --- | --- |
| Name | Adrienne Nye |
| Occupation | Scientific Communications and Creative Content Professional |
| Degree | MSc (2009) in Plant Science |
Adrienne Nye is a Scientific Communications and Creative Content Professional, with career experience at STEMCELL Technologies.
What motivates you to volunteer with the LFS Mentorship Program?
The students are the primary reason I volunteer. They energize me and remind me of how far I've come in my own journey. Connecting with them in this way gives me a sense of purpose and allows me to stay connected to the LFS community. Volunteering is a great way to give back and have a direct and positive influence on future generations.
Are there other ways that you feel you benefit by volunteering?
It's really a win-win scenario. Students provide me with invaluable insight through their curiosity and openness to asking really thoughtful questions and I believe the relationships that are built through this kind of interaction are mutually beneficial in so many ways.
What is one message you would like to share with students about how they can prepare for the world of work?
Stay open to all the possibilities and trust yourself. At the end of the day you are the one investing 40+ hours of your week into your work. Make it meaningful for you and don't be afraid to change course or direction. Stay flexible and value yourself above all else. Work on being resilient and always stay curious and keep learning.
How did you envision your own career journey would be when you started university?
Oh my goodness. Nothing like the one that played out. I'm laughing because life always throws you challenges and curve balls and when I entered university I really had no idea where I was headed. I just really loved to learn. I'm really proud of the journey I have walked and who I have become as a result. Your career journey is unique to you and it will grow you in all the best ways into a better version of yourself. It might even lead you somewhere better than you expected.
How did that career journey actually take off?
In some ways I feel like I'm still waiting for the takeoff. I think the wheels left the runway a few times only to come crashing down again. Adversity builds character. I have always followed my heart and my instincts. Without risk there is no reward they say. I guess with failure came redirection and when it was the right time and right place, doors opened. When it wasn't right, they didn't. I have never questioned that. And I still trust in that today. I believe that it is all these things that eventually lead to that take off. Even if it's a little bumpy along the way. I think it's always important to remember it is exactly that: a journey.
What is something that you are proud of that you have accomplished in your career?
I think I have accomplished the impossible task not once but several times of being able to fuse Science and Arts into a single job. Being a person who is both analytically and creatively inclined presents some challenges with the current job market. Sometimes you have to make your own luck. The thing I am most proud of is the ability to re-create myself at every fork in the road. With every year comes new experiences and setbacks and any experience good or bad leads to new destinations. Reinventing myself and creating non-traditional roles has become a welcome change over the years, because it allows me to grow and reach new heights, while offering something unique and diverse to my employers.