Afnan Ali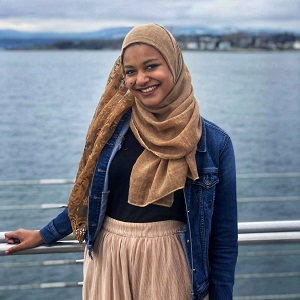 About
| | |
| --- | --- |
| | Undergraduate Student |
| Degree | Bachelor of Science in Applied Biology |
| Major | Applied Animal Biology |
| Hometown | Toronto, Ontario, Canada |
Afnan Ali is an undergraduate student in the Applied Biology program, who loves what she studies and who she meets. Afnan says the Faculty of Land and Food Systems (LFS) provides "the feeling of home," and that through the connections she has made with her professors, advisors, and staff within LFS, she has gained skills, confidence and a passion for learning.
What are three adjectives that describe you?
Adventurous, approachable, and passionate
Why did you choose to attend UBC?
I chose UBC for the unique location. I love the ocean. Growing up in Dubai we often spent time at the sea, and in Toronto the great lakes weren't quite salty enough! Vancouver is truly one of a kind in the sense that it has incredible nature, the ocean, and mountains while also having the urban aspect of a city. Once, I went hiking in the morning and later that evening I went to a concert! I have been to practically every beach in the city, and English Bay is my favourite.
Who do you reach out to for support and guidance?
I struggled with my academics in first year. It was a challenging transitioning from high school to university. My grades were not what I was used to having in high school, as I went from a structured routine to having the freedom to make any sort of schedule I wanted. The way I overcame this is by speaking with LFS Student Services, along with support from my family. LFS academic advisors helped me with the transition by pointing me to the right resources, helping with courses, and guiding me in the right direction. I learned to prioritize my mental and physical health. The way you feel mentally and physically truly reflects in your grades. It can be easy to forget to take breaks and immerse yourself in your studies but what is important is having a balanced lifestyle.
What has been your favourite research experience as an undergrad?
I had the amazing opportunity to work at the Beaty Biodiversity Museum. I worked on digitizing their tetrapod collection, specifically focusing on bats. I was handling rare specimens and learning about animals from all over the world while enabling other researchers access to the specimens through an online database. The team I worked with was supportive and I had a very positive experience. I met researchers doing all sort of interesting research and was able to expand my interests. I even want to pursue a career in research.
How have your extracurricular experiences enhanced your learning?
I was involved in the Land and Food Systems ACE Team (Academic, Career, and Engagement team). Being on this team was a big highlight during my undergraduate career as it pushed me to get out of my comfort zone and grow. It challenged me to work on a team with new people and nurture a welcoming and inclusive environment. It also enhanced my interpersonal, networking, and program-planning skills. We often took the time to reflect on what we had learned and how to improve our upcoming events. All these skills are transferable to be applied in the workplace as you will work with a team in any environment. It is important to reflect from time to time to ensure you're continuously learning.
Interested in studying in the Faculty of Land and Food Systems? Learn more here!