Yolanda Masacha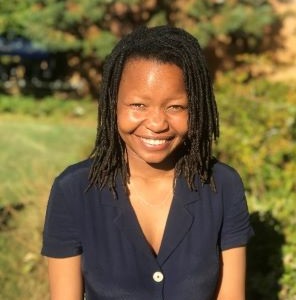 About
| | |
| --- | --- |
| | Undergraduate Student |
| Degree | Bachelor of Science in Applied Biology |
| Major | Applied Animal Biology |
| Hometown | Harare, Zimbabwe |
Yolanda Masacha's love for biology and animals drew her to the Applied Biology program. Her time in LFS has been a "beautiful challenge," giving Yolanda the opportunity to learn about and discover interests she didn't know she had, such as food justice and compassionate conservation, as well as to develop her professional skills. Since moving to Vancouver, Yolanda has fallen in love with late sunsets, the many hiking trails, the cherry blossoms, and the cat cafes in the city.
What are three adjectives that describe you?
Bubbly, passionate and gentle
Why did you choose to attend UBC?
I was awarded the MasterCard Foundation Scholarship Award in 2017 which gave me the amazing opportunity to come to UBC. When I was in high school I wanted to pursue a career that involved solving real world problems, especially for my home country Zimbabwe. As a biology enthusiast and animal lover the Applied Animal Biology program in LFS matched my interests and offered me a broad spectrum of opportunities. I also wanted to explore the world. UBC being in Vancouver, a very beautiful city, was the icing on the cake.
What has been the best part of your university experience so far?
The best part of my university experience has been meeting and interacting with people from different cultural backgrounds. I have become more self-aware and conscious of the world around me. Through courses such as the LFS Core Series (LFS 100, 250, 350 and 450), I have had discussions on sensitive topics affecting the world today and that has challenged me to think out of the box. The different opportunities that I have been involved in: working in residence life, community projects, and volunteering (to mention a few) have all built my awareness through the valuable interactions I have had.
You've lived in residence your whole time at UBC - tell us what makes res life so special!
I have lived in residence all my years at UBC and I also worked as a first-year Residence Advisor (RA) for two years. The best part of living in residence is that there are social events and programs where you get to interact with others and build friendships. Communities are built to give every resident a sense of belonging, which was very important for me as an international student. Some of the close freindships I have made have been through living and/or working in residence! Learn more about UBC housing here.
What advice would you give a student who may be moving away from home to come to UBC?
The transition to UBC was very challenging for me as it was my first time away from home and Africa. I had to get used to the food, weather and living in residence all while navigating my classes and role as a student. UBC and LFS orientation programs, residence community-building events, LFS|US events, advising appointments in LFS Student Services, UBC Counselling Services, friends, and long video calls with family back home helped me slowly embrace the new experience and manage homesickness. I have had so much support over the years and that has built my confidence!
Interested in studying in the Faculty of Land and Food Systems? Learn more here!