Wing Cheong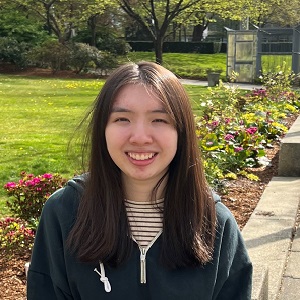 About
| | |
| --- | --- |
| | Undergraduate Student |
| Degree | Bachelor of Science in Food, Nutrition and Health |
| Major | Food, Nutrition and Health |
| Hometown | Hong Kong |
Wing Cheong is passionate about health and well-being, and is excited to expand her knowledge through research so she can make a difference in the world. She is doing this in the Food, Nutrition and Health program. Wing can't wait to meet prospective students in her role as an LFS Student Ambassador - find out how to connect with Wing and her outreach team here.
What are three adjectives that describe you?
Adventurous, inquisitive and conscientious
What advice would you give incoming LFS students?
The transition from high school to university can often be overwhelming and this is a common experience for many students. Initially, I struggled with managing my course load and finding a school-life balance in my first year. At first, I was uncertain whether I would find the support I needed from my instructors or LFS Student Services, but I quickly realized my fear was misguided after seeing how friendly and welcoming all the UBC staff members are. Utilizing the free tutoring resources such as Peer Assisted Study Sessions (PASS) also helped me grasp difficult concepts and learn from my peers. I would advise all students to not be afraid to reach out for support as everyone working at UBC wants you to succeed and there are many resources available to support you along your academic journey.
What has been your most favourite way of getting involved in LFS so far?
I have been a member of Nutrikids, a UBC club where I developed nutrition education workshops with some of my peers and delivered them to local schools. It was a great opportunity for me to connect with the community and other LFS students. I had a fulfilling experience sharing nutritional knowledge and helping the children establish a positive relationship with food. Working with kids was also super fun as they were always eager to learn, and I have gained a variety of skills through my involvement with the initiative.
Before graduating, what is still on your UBC bucket list?
I would like to partake in research at one point in my UBC journey. There are so many research projects in LFS that strive to address important matters such as climate change and building a sustainable food system, which was what drove me to choose LFS. Given that UBC is one of the top research universities in the world, I definitely want to utilize all the research resources available here and have a role to play in potentially creating global change.
Why did you ultimately choose UBC and LFS for your post-secondary studies?
UBC is known for its diverse student body and supportive community, which I knew I wanted to be a part of while I was selecting which university to attend. I had a strong interest in health and well-being so naturally LFS was the perfect Faculty choice for me. UBC's unique location also creates a relaxing learning environment for me as I can easily immerse myself into nature to destress.
Interested in studying in the Faculty of Land and Food Systems? Learn more here!