Lucy Hoang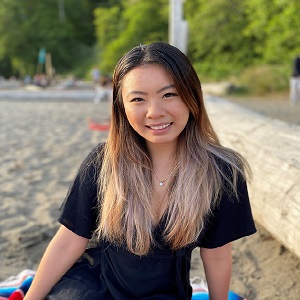 About
| | |
| --- | --- |
| | Undergraduate |
| Degree | Bachelor of Science in Food, Nutrition and Health |
| Major | Dietetics |
| Hometown | Vancouver, BC |
Lucy didn't have to look too far for her university studies, having graduated from Templeton Secondary in Vancouver. She is passionate about nutrition and loving her time in the Dietetics program (did you know UBC has the only Dietetics program in the province!?). You may meet Lucy on a grocery store tour to learn how to establish better eating habits, or see her delivering nutrition workshops at local elementary schools as a member of the Nutrikids program. No matter where you find her, however, you won't be able to miss her big smile and infectious laugh.
What are three adjectives that describe you?
Ambitious, enthusiastic, and compassionate
You transferred to LFS once already at UBC - what motivated you to make that switch?
I started off in the Faculty of Science at UBC and majored in Chemistry in my 2nd year, hoping to go into a healthcare profession. After taking analytical, inorganic, quantum, and organic chemistry courses, I soon realized that I needed more tangible learning experiences that I could apply to real-world healthcare situations. I then transferred into LFS, where I took food science and nutrition courses. Here, I still learn chemistry concepts, but in a way that I can visualize and wrap my head around. After being accepted into the Dietetics Major, I'm fascinated with the various ways I can learn chemistry, biochemistry and anatomy and physiology with an evidence-based nutrition lens.
What is it about your learning in LFS that has been so unique?
My learning experience in LFS has been incredibly experiential and hands-on. All of my classes in LFS have incorporated collaborative group-work, community-based experiential learning, and/or food tasting sessions. One of my favourite experiences was in a course called LFS 250, where I visited a conventional dairy farm and learned about animal welfare and care. There, one of the farmers let a baby cow suck on my hand to feel how powerful their nursing is at a young age. What an amazing experience!
What resource have you accessed outside of LFS that has helped you during your time at UBC?
The Centre for Student Involvement and Careers (CSI&C) is an amazing free resource that helped me so much for my Dietetics application. They host group workshop sessions (such as Panic-to-Power, which helps people manage their stress) and one-on-one interview/ cover letter/ and resume workshop sessions (which you can book with our own Career Strategist, Rob Kim). There were many times I went into the centre panicked with a mess of ideas, and they were able to help me curate the story that I wanted to present. Whether you're applying to a program, a volunteer position, or a job, the CSI&C is definitely a place I recommend others visit.
As a local student, what advice do you have to those who may commute to UBC?
I commute from East Vancouver to UBC every day. For my first 3 years, I took public transit (14 Hastings/UBC) every day. For those who aren't familiar with this bus route, it stops at every single stop for 63 stops! Needless to say, it was a slow bus that could take from 55 minutes up to 1.5 hours during rush hour. In the morning, I eat my breakfast and on the way home, I relax and listen to music/podcasts as a way to decompress at the end of the day. Overall, for those of us who have to commute, I would recommend making the best use of your time!
Interested in studying in the Faculty of Land and Food Systems? Learn more here!