Jodie Zhao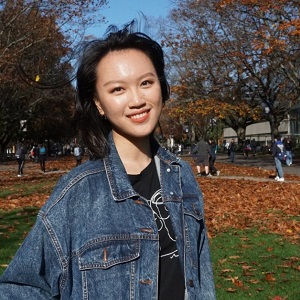 About
| | |
| --- | --- |
| | Graduated, May 2020 |
| Program | |
| Major | Food, Nutrition and Health |
| Hometown | Wuxi and Toronto are both cities I call home! |
When Jodie was exploring her post-secondary options, she attended a UBC event in Toronto and met an LFS student there who provided her with insight in to the student experience. In her final year in LFS, Jodie was able to give back as an LFS Student Ambassador sharing her story about studying in the Food, Nutrition and Health program with prospective students.
What are three adjectives that describe you?
Optimistic, adventurous, and intuitive
What drew you to UBC and LFS?
I wanted to move away from home to gain some independence, and Vancouver is such a beautiful and cosmopolitan city; I fell in love with it the first time I visited. When I met the LFS student in Toronto, she shared her experience with me and provided me with helpful tips and guidance - I knew that this Faculty was a place that I could thrive in based on the amount of support and help I received.
What advice would you give a high school student, exploring their post-secondary options?
My advice to a high school student would be to reflect on your strengths and explore your interests widely. Talk to professionals or university students on LinkedIn and discover what they like or dislike about the field they are in. Finding what you are passionate about is a process of self-recognition and self-reflection. Take your time - I am still in the process of discovering my passions. University is a great platform to provide you with lots of opportunities and support.
Who did you rely on when you face challenges with your academics?
My peers in the program are a great support to me. My friends and I help each other to understand difficult homework questions and we encourage each other through busy periods of school. I have also learned to seek help during TA office hours.
What are your plans after you finish your undergraduate degree?
I am hoping to enter a grad program in Media & Communications that integrates aspects of both social sciences and humanities. The LFS Faculty gives me opportunities to explore and dive into real-world issues such as malnutrition, racism, and sexism from a unique food systems-lens. Through my learning, I feel empowered to make contributions to solving these issues.
Interested in studying in the Faculty of Land and Food Systems? Learn more here!