Jennifer Martin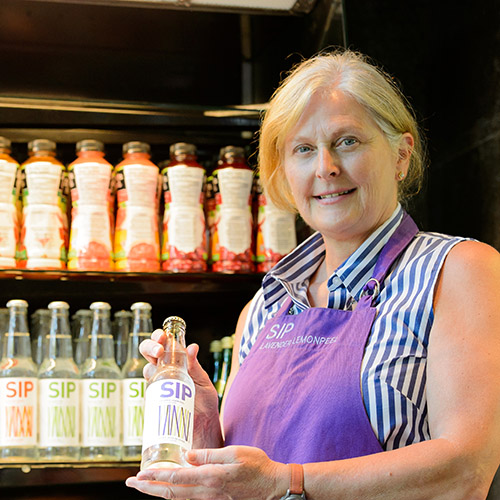 About
| | |
| --- | --- |
| Rank | Alumni |
| Degree | Bachelor of Science in Food, Nutrition and Health |
| Major | Food Science |
Food Science Alum Creates SIPsoda
Not many people can list gourmet ice cream bar consultant on their resume, but that's just one of the interesting job titles food scientist Jennifer Martin has had over the course of her career.
After graduating with her BSc in Food Science in 1979, Martin earned an MBA through the UBC Sauder School of Business. She worked in food product development for a number of major companies - Loblaws, Heinz, and Dickie Dee Ice Cream – before striking out on her own and starting a company that placed water vending machines in grocery stores. That experience, along with an interest in herbs, eventually led her to create SIPsoda, a Vancouver-based company that produces "Simple Infused, Pairings of Botanicals and Fruit" set in a sparkling spring water base.
"I have a love for good water and I thought I could take herbs and use them the way the wine industry uses grapes to create unique flavours," she said. "I wanted to develop an authentically healthy drink and lead the industry in bringing the level of added sugar down."
Martin worked out of her kitchen, pairing fresh herbs and citrus peel, trying to come up with a unique beverage with strong health properties that used very little sugar. The result was compelling flavours like lavender lemon peel, coriander orange and rosemary lime, each with 80% less sugar than regular soda and only 25 calories a serving.
"We're kind of a sophisticated lemonade stand," she said, adding that as a small business owner, she's responsible for overseeing manufacturing, distribution, public relations, and research and development. "Starting SIPsoda was a big risk because it's a very different drink, but it's been a lot of fun and it's accomplishing what I wanted it to."
SIPsoda is sold at Whole Foods, Urban Fare, Loblaws City Market and select Save on Foods, as well as served in restaurants around Vancouver, including UBC's Point Grill.