Jason Pang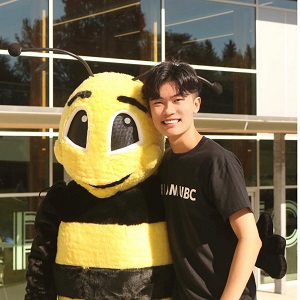 About
| | |
| --- | --- |
| | Undergraduate Student |
| Degree | Bachelor of Science in Global Resource Systems |
| Major | Customized for GRS students |
| Hometown | Richmond, BC, Canada |
Jason is passionate about learning how environmental, social, and corporate governance principles can help transition businesses to a greener economy, and has been able to lay the academic foundation for this pursuit through his studies in the Bachelor of Science in Global Resource Systems. Not only has his learning shaped his UBC experience, he has also found community by getting involved in Faculty events, such as LFS Firsts events in first-year, and now as a Residence Advisor.
What are three adjectives that describe you?
Passionate, ambitious and tall
What advice would you give new students to help them make the transition from high school to university?
First-year students in LFS are required to take a communication course such as LFS 150 (Scholarly Writing and Argumentation) or WRDS 150 (Writing and Research). I personally found the expectations for academic writing in university to be much different than what I was used to coming out of high school. Fortunately, I was able to find writing support through the UBC Centre for Writing and Scholarly Communication. There, I received evidence-based writing consultations which supported my writing through feedback from a broader perspective of the discipline.
What does a typical week look like for you during the school year?
I have classes Monday to Thursday usually from 9:30-3:30. In between my classes I will have lunch with friends, go to the gym, or find a quiet place on campus to study. After 3:30 I spend the rest of the afternoon working on some projects for work or I will have meetings scheduled with my teammates to discuss future club events. Having a 4-day class schedule allows me to relax during Fridays and weekends where I spend my free time exploring new restaurants around Vancouver, take a stroll down Pacific Spirit Regional Park, or head back to Richmond to spend quality time with family.
How are you involved outside of your academics at UBC?
Outside of academics at UBC, I joined different clubs and student groups to make new friends and contribute back to the campus community. During my first year I joined the Land and Food Systems Undergraduate Society (LFS|US) which acts similarly to a high school student council for the students studying in the Faculty of Land and Food Systems. LFS|US organizes events and is committed to building a sense of community amongst LFS students. I was even honored to be the elected President for LFS|US from 2021-2022!
Interested in studying in the Faculty of Land and Food Systems? Learn more here!