Eric Yu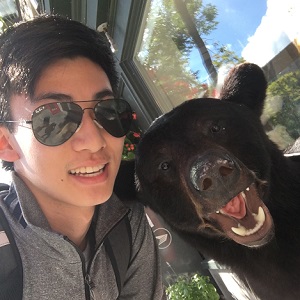 About
| | |
| --- | --- |
| | Undergraduate Student |
| Degree | Bachelor of Science in Applied Biology |
| Major | Applied Animal Biology |
| Hometown | Windsor, Ontario, Canada |
Eric has always bonded with animals. Growing up, his friends would call his house 'the zoo' due to the number of unique creatures he cared for including chickens, turkeys, ducks, hamsters, turtles and even silkworms (just to name a few). Drawn to the Applied Biology program, Eric has made the most of his time at UBC by getting involved in student clubs, and in the Faculty as an LFS Orientation Leader and with the LFS|US (LFS Undergraduate Society). His time spent as a volunteer with the Vancouver Aboriginal Health Society (ADHS), which provides dental care to those who need it most and are typically unable to afford it, has been deeply impactful, inspiring Eric to pursue a career in dentistry after his undergrad!
BTW, that is not a real bear in the photo!
What are three adjectives that describe you?
Open-minded, chill and sociable
If there was one misconception about LFS you'd want to clear up, what would it be and why?
That we're ALL farmers! Often when people ask me about LFS, they assume that the ONLY thing we study is something related to agriculture. In reality, LFS is SO much more than just that! Our Faculty is diverse, and students are preparing to tackle various issues on a local and global scale while being grounded in science. Some students are studying how we can address the issue of feeding our ever-growing population while others are studying the economics behind the food industry or the nutritional aspects of food. Some students are studying how we can be more virtuous within our animal practices to ensure that animal welfare is maintained while others are studying to become veterinarians. If science, food, animals or sustainability excite you, LFS will allow you to explore endless options.
How would you describe your learning experience in LFS so far?
Two words – Hands On. Unlike many other university courses that I've taken, LFS courses have provided me with some of the most hands-on learning experiences that I've ever had throughout my entire academic career. In one of our core LFS courses (LFS 250), we were not only able to learn about our dairy industry, but we were given the opportunity to visit various dairy farms as part of our learning experience to see first-hand how dairy is processed and distributed for consumption. The next day I was on my way to teach elementary school children about eating crickets as a more sustainable protein source. How crazy is that? If you enjoy getting involved within your courses rather than just listening to lectures all day, LFS truly can provide a life-changing educational experience.
What is one resource that has helped you during your time in LFS, and why should others be aware of it?
During my time in LFS so far, the LFS Learning Centre located in the MacMillan Building has been a huge help to me in solving IT issues related to Microsoft Office and the UBC Student Service Centre (SSC). The folks at the LFS Learning Centre know exactly how to fix almost any issue when it comes to virtual programs and are always super nice and welcoming. They also have various resources on their website to walk you through being well-versed in adapting to learning in an online environment.
What impact did living in residence have on your UBC experience?
Living in residence has honestly been one of the best choices I have made after coming here to UBC from Ontario! Through the UBC residence community, I have met some of the most amazing people from around the world who are now some of my closest friends. Living with these amazing folks and listening to their stories has opened my view of the unique world we live in and enhanced my student experience at UBC. Additionally, there are always a ton of events held by the Residence Association providing opportunities to connect with others.
Interested in studying in the Faculty of Land and Food Systems? Learn more here!