Chelsea Harris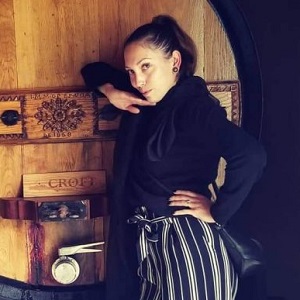 About
| | |
| --- | --- |
| | Undergraduate |
| Degree | Bachelor of Science in Food, Nutrition and Health |
| Major | Food Science |
| Hometown | Cloverdale Surrey, BC, Canada |
Chelsea is a passionate student who landed in LFS after discovering her interest in the art of wine-making. In addition to her discipline-focused coursework, Chelsea appreciates the opportunity to gain a broad view on the complex and layered food system here in Canada and on a global scale. The sense of community she feels in LFS and UBC is attributed to her classroom experiences, but also her involvement as a Work Learn student with LFS Student Services as the Indigenous Outreach Coordinator.
What are three adjectives that describe you?
Creative, adventurous, and hard-working
What was your pathway to LFS at UBC?
I transferred to UBC via the Aboriginal Transfer Program offered by Langara College where I completed an associate degree in Science. I thought I would just study Biochemistry but after my first wine harvest I was hooked: I had to learn everything about the wine-making process. I was trained as a Lab Technician which led me to New Zealand for a harvest, and it was there I realized I needed to return to post-secondary to learn about the science behind wine. LFS turned out to be a perfect fit. If you are looking for a smaller Faculty that feels comfortable, down to earth, and encourages eating a lot of food, LFS is the place for you too.
What has been the best part of your university experience so far?
The First Nations Longhouse is such a welcoming space and great resource for Indigenous students! This is where I learned about the UBC chapter for .caISES (Canadian Indigenous Science and Engineering Society) and joined the club. I was able to travel to Saskatoon for the regional conference on sustainability pertaining to land, water, energy, and engaging Indigenous youth in STEM. It was a life changing experience where I was able to meet many amazing Indigenous scientists, learn about current issues within Canada, and I was inspired to get more involved with Indigenous youth in STEM fields.
What was the most significant challenge you faced when transferring to UBC, and who helped you navigate things?
I found registering for courses online very overwhelming. Luckily, I reached out to Joel Liman, the Academic Advisor with a focus on supporting Indigenous students, who helped guide me to register for specific courses at Langara College before I even transferred to UBC, which has helped me immensely in the long run. In general, LFS Student Services is a great and friendly resource to connect with. When I could go visit them in person, I not only received academic advising, but snagged some candy and worked on a puzzle while in the waiting room.
What is one UBC event you think more students should be aware of, and why?
Being on the ancestral and unceded territory of the Musqueam people I believe everyone should be aware of Orange Shirt Day on September 30th each year. It is a day to rock some form of orange clothing while being mindful, respectful, and to honour Indigenous children that were forced into residential schools in Canada. I found on Orange shirt day so many fellow students, and faculty participating in an event that means so much to me and to reconciliation, heartwarming. Every day on campus I am grateful for the generosity and humility of the Musqueam people to allow all of us to gather on their homeland to better our education.
Interested in studying in the Faculty of Land and Food Systems? Learn more here!