Bryna Turk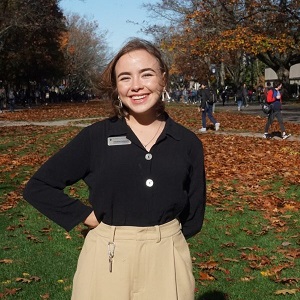 About
| | |
| --- | --- |
| | Undergraduate Student |
| Degree | Bachelor of Science in Applied Biology |
| Major | Applied Animal Biology |
| Hometown | Calgary, Alberta, Canada |
Bryna Turk is an undergraduate student in the Applied Biology program. Bryna applied to the Faculty of Land and Food Systems at UBC because she appreciated the Faculty's "efforts to drive change" and she wanted to make a difference too! Read more about Bryna's journey from high school student to animal biologist, and why a science degree with social impact is so important to her.
What are three adjectives that describe you?
Charismatic, enthusiastic, and adventurous
Why did you choose the Faculty of Land and Food Systems?
LFS stood out to me because of the Faculty's efforts to drive change in areas that were important to me, like animal welfare, food security and safety, and human nutrition. After doing some research on the courses I could take and the profs in my prospective program, I could envision myself applying the knowledge and values I gained from studying in LFS to make a difference in my own community.
How would you describe your learning experience in LFS so far?
I would say the classes I've taken in LFS are distinct from other Faculties'. LFS courses are designed to develop real-world skills like group problem solving and communication, and how to apply them to contemporary issues with the goal of a more sustainable future. I've had the privilege of experiencing friendly and passionate profs who want to see me succeed, and I've met so many amazing and like-minded peers who are passionate about what they study, which is really energizing!
How are you involved outside of your academics at UBC?
Outside of class, I'm decently involved around campus! You'll be sure to find me at CiTR 101.9 FM and Discorder Magazine, volunteering on the student executive, or out on the soccer pitch with my intramural team. Apart from that, my roles as an LFS Student Ambassador, Jumpstart Orientation Leader and a residence advisor have shown me how important something small like a friendly smile or simple hello can be to someone else and taking part in LFS Mentorship Program has helped me develop career goals and networking strategies as I move forward in my degree.
What advice would you give a high school student considering applying to LFS?
Don't be afraid to challenge yourself and try new things in your undergrad! University is a time to discover new passions you never would've imagined you'd have in high school; you might be pleasantly surprised what you find when you wonder outside of your comfort zone. The Faculty of Land and Food Systems has helped me develop as a collaborative group member and a leader- professionally, academically, and within my community.
Interested in studying in the Faculty of Land and Food Systems? Learn more here!